Seriously… when we started our plant shopping adventure, I was stunned by how many types of plants/shrubs/trees there were out there, but when we started shopping for our back yard, I had literally no idea that there could be sooooo many different types of palm trees! Now, I have to say that I myself do not dream of a "palm tree back yard," but my husband and I both love the tropical/coastal look, and he loves palm trees. To do our best to meet in the middle and make sure that we both achieved the look we wanted, we decided to incorporate a few palm trees amongst a variety of other trees and plants.
So to prevent another "gargantuan" incident or an overly palm-tree'd yard, we set out on a palm tree learning lesson.  We looked at them a few times while we were at the nursery, but we quickly realized that we needed to do some research to really find out which palm tree would work best for our yard spatially and stylistically.
We sat down with the laptop and perused the internet for a good amount of time and researched a variety of factors:
size (height and width)
style/shape
root system
colors (yes… palm trees can be different colors- green, bluish, yellowish)
drought tolerance/watering needs
temperature tolerance (our weather varies from 114 – 30 degrees"-ish")
We found that there are several types of palm trees that are popular in the US and particularly in California.  They include:
California Fan Palm (Washingtonia filifera)
True Date Palm (Phoenix dactylifera)
Canary Island Date Palm (Phoenix canariensis) – one of two most common seen in CA
Texas Sabal Palm (Sabal texana, mexicana)
Mediterranean (European) Fan Palm (Chamaerops humilis)
Windmill Palm (Trachycarpus fortunei)
Pindo Palm (Butia capitata)
Sago Palm (Cycas revoluta)
Mexican Fan Palm (Washingtonia robusta) – one of two most common seen in CA
Queen Palm (Syagrus romanzoffiana)
The trees range in size from 12 feet to 80 feet.  Lots of options, right?!?!?  Too many for my taste!  All we wanted was just a palm tree that would only grow no more than 30 feet… is that too much to ask?!?!?
After reviewing our criteria, the main contenders were the:
Mediterranean (European) Fan Palm
Windmill Palm
Pindo Palm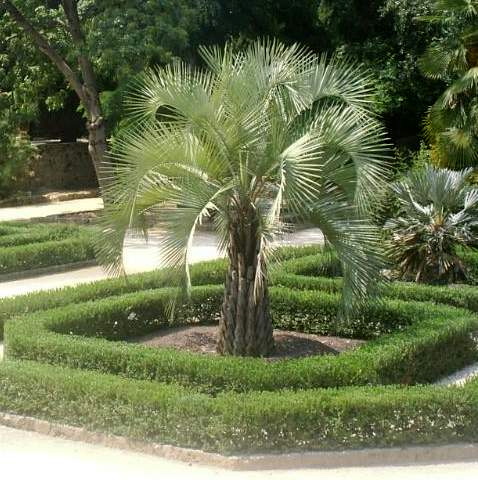 Sago Palm
After we narrowed our options, we went to the local nursery and talked to their employees about our needs and aesthetically what we liked.  They helped us make the final decision.  In the end, we went with Mediterranean Palm Tree.  It will give us the traditional palm tree look, while only growing to about 25 feet tall (with about 5 years to fully mature!
Whew… decision made.  Seriously though… what the heck?!?!?  I really had no idea how many types of palm trees were out there until we started shopping for them.  Suddenly, it was like I was seeing them everywhere.  I mean, I knew, that there were TONS of them in our area, but I really had NO IDEA how many until now!  GEEZ!  Apparently Californians (even NorCal-ers like me) are total palm tree addicts!
We are now the proud owners of TWO Mediterranean palm trees… in addition to TONS of other plants!  I actually may not want to confess how much we spent on plants over the weekend, but I suppose it's not that bad. LOL
Have you ever wanted something and not realized how many options were actually out there for that particular item?  After you've picked something out, do you suddenly start seeing it everywhere like we did?  (I usually find this true with cars.)