Right now, there is a wonderful blog hop series going on…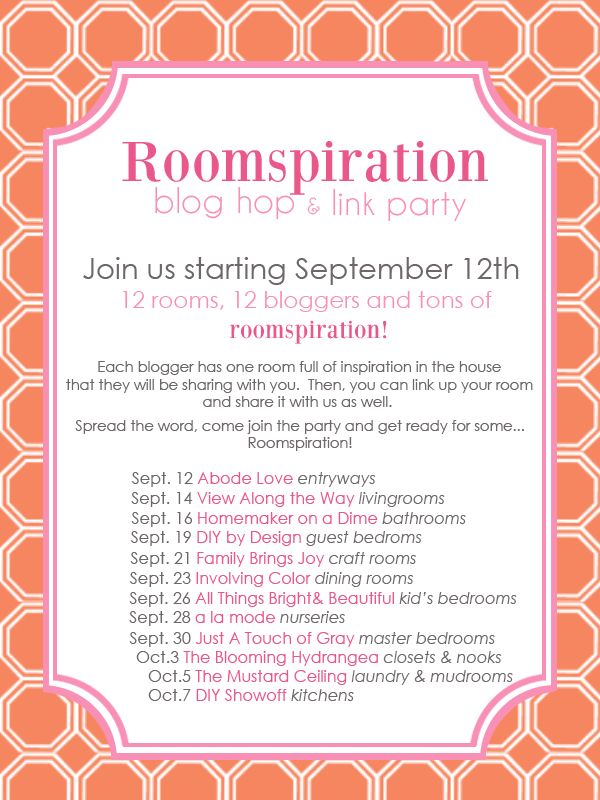 If you haven't already joined the parties or checked out the spaces, you definitely should!  Today, the party continues over at DIY by Design with guest bedrooms!    Since I've already written about our guest bedroom/home office here, I figured I would share that link, but write about our guest bathroom today. 
I realized that I've never actually shared an official tour of our guest bathroom since the only peeps have been seen here and here.
When we first purchased our home, the guest bathroom looked like this… an awful mess!
We immediately picked a blue we loved and painted the walls, grabbed a shower curtain that we already had and knew we liked and threw it up.
After the painting, we added some accessories to the bathroom: the shelf, towel rack, container, and soap dispenser.
Shortly thereafter, we got a gift of some beautiful recycled aluminum tiles from a wonderful friend of ours, Doug Tolson. We immediately knew we had to DIY a statement piece for this bathroom and it ended up being our vanity mirror- the tutorial and before and after is found here.
Lastly, I searched and searched for the perfect bathroom art and finally found something I loved… bird decor.
Call me crazy, but I just love cute little birdies and bright colors… and these pieces satisfied both!
So, for now, this is where we stand.
Though, I have considered making some changes lately… don't tell Eric.
Future changes may or may not include:
wall color change (although we love blue… we have a lot of it in our house)
shower curtain change
DIY vanity
New vanity countertops and sink
Until I make some final decisions about changes, I'll just keep pinning inspiration photos until I get enough ammo to convince the hubby that some changes are in order!
Hope you guys enjoyed the bathroom tour!  Make sure you check out some of the amazing guest bedrooms linked up over at DIY By Design!!!
~Ashley